Curlex® NetFree™
Downloadable Files


 American Excelsior Company is the inventor of biodegradable erosion blankets. American Excelsior Company's dedication to innovation has lead to the industry's very first 100% biodegradable erosion blanket. Developed in 2003, Curlex NetFree excelsior blankets are specifically designed to actually promote ideal growing conditions for grass seed, while simultaneously protecting topsoil from wind and water erosion without the use of polypropylene netting on the top or bottom of the blanket. While maintaining all the benefits of the industry-standard Curlex
®
excelsior blanket, Curlex NetFree offers a solution that eliminates the fear of plastic or jute netting getting caught up in moving activities or animals becoming entrapped in environmentally sensitive job sites.  Curlex is considered the industry standard by many because of the plethora of 
Curlex Features and Benefits.
Material Characteristics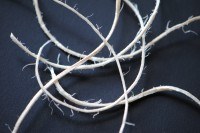 Curlex blankets consist of unique softly barbed, interlocking, curled, Great Lakes Aspen excelsior wood fibers. They are naturally seedfree. Curlex NetFree is a 100% biodegradable erosion blanket. Using the unique interlocking, curled, Great Lakes Aspen excelsior wood fibers stitched together with a 100% biodegradable thread allows the blanket to be manufactured without the use of plastic or jute nettings. Depending on job site requirements, the Curlex NetFree blanket can bring a higher performance characteristic to your job site over conventional mulch mats, blown straw with plastic netting, or other single net straight fiber blankets. Curlex NetFree excelsior blankets are available individually wrapped or in master packs to allow for mechanical unloading and stacking.
Performance Capabilities
| | |
| --- | --- |
| Netting Type | NONE |
| Slopes | ≤ 3H:1V |
| Shear Stress> | 48 Pa (1.0 lb/ft2) |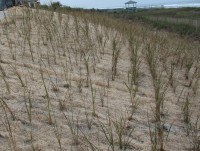 Curlex NetFree ASTM D6459 Test
Curlex NetFree ASTM D6460 Test
Typical Applications
All Mowing Activities
Golf Course Construction
Environmentally Sensitive Areas
Residential Development
Commercial Development
Highway Construction
Urban Drainage
Slope Stabilization
Curlex NetFree Case Studies
Curlex NetFree
A 100% biodegradable erosion blanket manufactured with an engineered cut of Great Lakes Aspen excelsior wood fiber. The wood fiber shall consist of 80% six-inch or greater in length. The blanket shall be of a consistent thickness, with fibers evenly distributed throughout the entire area of the blanket creating a mat with no voids in material. The blanket shall be manufactured using a 100% biodegradable stitch material to form the continuous matrix of Curlex fibers. The blanket shall be naturally seed-free and not contain any foreign weed seed, chemical additives, tackifiers, or paper products that could hinder grass growth, establish unwanted evasive weed species or shorten necessary erosion protection time periods. The blanket performance shall be supported by an ASTM protocol test result.
Benefits of Curlex NetFree
No more entrapment of wildlife and pets
No more netting tangled in mowing equipment
No more worries about future environmental risks; Curlex NetFree is 100% biodegradable
No more tripping on netting
No more waiting for netting to decompose
Suggested Specifications

Curlex NetFree blankets shall be made from 100% Great Lakes Aspen Excelsior. The fibers shall be made into blanket form without the aid of any netting. Curlex NetFree fibers shall be of consistent thickness and evenly distributed throughout the blanket. Curlex NetFree shall be a 100% biodegradable erosion control blanket.
| | |
| --- | --- |
| Roll Dimensions | 8.0 ft x 90.0 ft (2.4 m x 27.4 m) |
| Roll Area | 80.0 yd2 (66.9 m2) |
| Unit Weight* | .73 lb/yd2 (0.40 kg/m2) ± 10% |
| Netting Options | No Netting |

*Weight is based on a dry fiber basis at the time of manufacture. Baseline moisture content of Great Lakes Aspen excelsior is 22%.
Technical Support
Visit our Technical Support Library to view all Technical Support Documents by clicking on Technical Support at the top of any page or please Contact Us if you have further questions.
Disclaimer: Curlex NetFree is a system for erosion control and re-vegetation on slopes and channels. American Excelsior Company (AEC) believes that the information contained herein to be reliable and accurate for use in erosion control and re-vegetation applications. However, since physical conditions vary from job site to job site and even within a given job site, AEC makes no performance guarantees and assumes no obligation or liability for the reliability or accuracy of information contained herein for the results, safety or suitability of using Curlex NetFree, or for damages occurring in connection with the installation of any erosion control product whether or not made by AEC or its affiliates, except as separately and specifically made in writing.