AEC Premier Straw®
Downloadable Files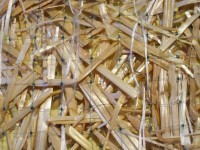 American Excelsior realizes project owners, consultants, specifiers, and landscape contractors wish to have a choice when selecting erosion control blankets. That is why American Excelsior Company, the inventor of biodegradable erosion control blankets (ECBs), manufactures straw, coconut, and excelsior blankets.
Our AEC Premier ECB manufacturing process starts with choosing only top quality, organic, agricultural straw fibers. A single or double net is then stitched to the topside or both sides of the ECB. A variety of nettings is available depending on your project requirements. We offer a green color-coded plastic netting for applications requiring UV resistance, strength, and longevity. Our photodegradable QuickMow™ netting is recommended for urban use and is a very popular choice for certain roadside projects. It is color-coded white to identify it as a rapid-breakdown, polypropylene netting designed for use in areas to be mowed. Also available is our FibreNet™—100% biodegradable netting—for use in critical environmentally sensitive areas.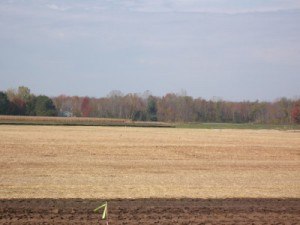 Material Characteristics

Premier Straw ECBs are biodegradable ECBs consisting of the finest straw fibers available. Depending on job site requirements, a variety of Quick Mow, environmentally sensitive, and stronger netting types are available.  At a standard width of 8 feet, which is 18 inches wider than conventional straw ECBs, our Premier Straw ECBs are specifically designed to provide you with the most effective installation widths available. Lightweight and easy to handle, you can rely on AEC Premier Straw to hold its own in the everyday basic ECB applications. Premier straw blankets are available individually wrapped or in master packs to allow for mechanical unloading and stacking.
Performance Capabilities
| | | |
| --- | --- | --- |
| Slopes | Netting Type | Shear Stress Rating |
| 3:1 & flatter | Single : Green, QuickMow, or FibreNet | 74.0 Pa (1.55 lb/ft2) |
| 2:1 & flatter | Double : Green, QuickMow, or FibreNet | 84.0 Pa (1.75 lb/ft2 ) |
Typical Applications
Highway slopes and embankments
Utility right-of-ways
Suggested Specifications
General
Premier Straw

ECBs are designed to provide temporary protection for grass seed and topsoil during the germination and progressive revegetation and root system development stages.
Product
Premier Straw ECBs, as manufactured by American Excelsior Company, shall be made from the finest quality agricultural straw fibers available. Straw fibers shall be made into ECB form and stitched to a single net on top or netting top and bottom. Premier Straw fibers shall be of a consistent thickness and evenly distributed throughout the ECB. A variety of netting types is available to meet specific job site requirements. Premier Straw ECBs are certified weed seed free.
 Product
 Roll Sizes
 Weight*
 Netting
AEC Premier Straw
8.0 ft x 112.5 ft (100 yd2)
or
16.0 ft x 112.5 ft (200 yd2)
0.50 lb/yd2
Polypropylene
or
FibreNet™
*Weight is based on a dry fiber weight basis at the time of manufacture.  Baseline moisture content of AEC Premier Straw fibers is 15%.
Technical Support
Visit our Technical Support Library to view all Technical Support Documents by clicking on Technical Support at the top of any page or please Contact Us if you have further questions.
Disclaimer: AEC Premier Straw is a system for erosion control and re-vegetation on slopes and channels. American Excelsior Company (AEC) believes that the information contained herein to be reliable and accurate for use in erosion control and re-vegetation applications. However, since physical conditions vary from job site to job site and even within a given job site, AEC makes no performance guarantees and assumes no obligation or liability for the reliability or accuracy of information contained herein for the results, safety or suitability of using AEC Premier Straw, or for damages occurring in connection with the installation of any erosion control product whether or not made by AEC or its affiliates, except as separately and specifically made in writing by AEC. These specifications are subject to change without notice.