Curlex® Bloc an American Made Alternative to Coir Logs
Downloadable Files
Curlex Blocs are versatile products that have been used in various applications beyond shorelines.  Using Curlex Bloc as a natural filter is becoming more and more common each day.  Curlex Blocs continue to be used in conjunction with vegetation on shoreline restoration projects, but each day contractors are finding new applications for the product such as replacing wire backed silt fence with Curlex Blocs to protect sensitive wetlands.  Let us know if you have a new application for Curlex Blocs.
The following three photos (from left to right) show a Curlex Bloc Filter Station with contaminated water before the Filter Station, clear water exiting the Curlex Bloc Filter Station on the downslope side, and a cross-sectional view of the fine sediments captured by the Curlex Bloc matrix after the flow (containment material was removed from the Curlex Bloc for the photo), respectively.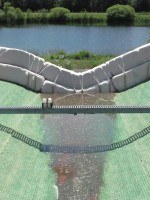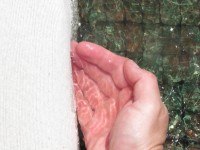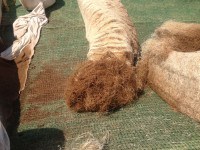 New Test Data: Curlex Blocs – Natural Filters for Challenging Conditions.  Learn more about how Curlex Blocs can be used as filters for challenging conditions.  We have not seen a natural product this effective before that did not need to incorporate flocculant material.  The results of the simulation using an all natural Curlex Bloc filter station speak for themselves.
Click here to watch a video showing clips throughout the four-hour long simulation.
Customers across North America have been asking for an American-made alternative to coir logs and American Excelsior Company has answered with the development of Curlex Blocs.  Patent-pending Curlex Blocs are manufactured in the U.S.A. with American fibers as compared to coir fibers that are typically imported from half way across the planet.
View the North American Lake Management Society (NALMS) article on concerns with coir-based products.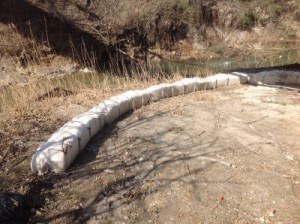 Day of Install, 3 Months, 6 Months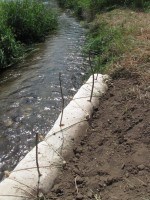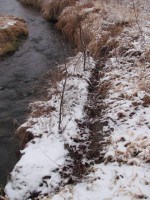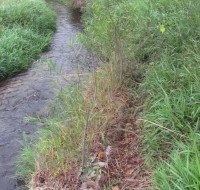 12 Months, 16 Months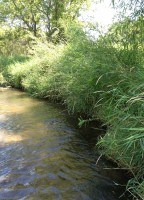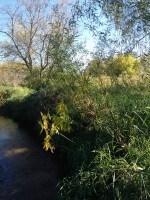 Curlex Blocs' unique flat footprint provides more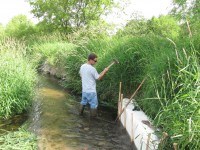 intimate contact with subgrade as compared to traditional tubular shore products such as coir logs and compost socks.  In addition, Curlex Blocs may be installed over soil or over rolled erosion control products.
Curlex Blocs are light in color by design as compared to darker coir logs and compost socks that can cause water bodies to warm, which can be detrimental to fish and other aquatic organisms.
Curlex Blocs are suitable for stream bank restorations and other shoreline applications with low energy and wave action.  Secondary applications for Curlex Blocs include around inlets and outlets, around job sites for perimeter control, runoff diversion, or in other applications when a damming product is desired.
Curlex Blocs are available palletized to minimize material handling requirements.  Curlex Blocs are designed to be functional* for 3+ years.  The optional biodegradable containment material is designed to start degrading during the first year to allow voluntary seed and sediment into the Curlex fiber matrix.
The matrix of the Curlex Bloc is the key to the product's performance capabilities.  The containment material is a carrier to assist with product shipping and placement into the field.  Optional synthetic containment material is designed not to degrade during the first year.
*Functional Longevity varies from region to region because of differences in climatic conditions.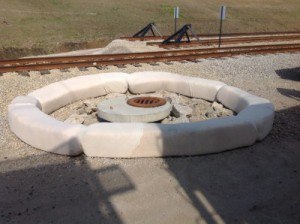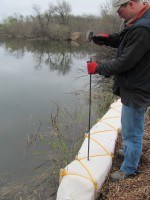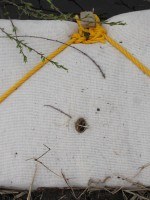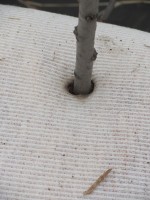 Curlex Blocs are designed to provide initial stability of shorelines and streambanks by buffering wave action and flow velocity. Incorporation of live plants through and around Curlex Blocs is common. Ensure sufficient moisture is available for target species selected. Use planting iron to create a hole in Curlex Bloc then place plug deep into Curlex Bloc. Typically, plugs are installed in a staggered pattern along the length of the Curlex Bloc.
Suggested Specifications:
| | | |
| --- | --- | --- |
| Product Name | Curlex Bloc | Curlex Bloc HD |
| Nominal Dimensions | 18 in x 16 in(45.7 cm x 40.6 cm) | 18 in x 16 in(45.7 cm x 40.6 cm) |
| Length (+10%, -0%) | 4.0 ft or 8.0 ft(1.2 m or 2.4 m) | 4.0 ft or 8.0 ft(1.2 m or 2.4 m) |
| Unit Weight** (±10%) | 14.0 lb/ft(20.8 kg/m) | 18.0 lb/ft(26.8 kg/m) |
| Unit Ground Contact (minimum) | 192 in2/ft(4,064.2 cm2/m) | 192 in2/ft(4,064.2 cm2/m) |
| Density** (±10%) | 7.0 lb/ft3(112.1 kg/m3) | 9.0 lb/ft3(144.1 kg/m3) |
| Fiber | Great Lakes Aspen(naturally seed free) | Great Lakes Aspen(naturally seed free) |
| Fiber Size | 80% of fibers a minimum of 6" (15.2 cm) | 80% of fibers a minimum of 6" (15.2 cm) |
| Containment Material | Synthetic or Biodegradable | Synthetic or Biodegradable |
**Weight is based on a dry fiber weight basis at time of manufacture.  Baseline moisture content of Great Lakes Aspen excelsior is 22%.
Curlex Bloc Material Specifications and Manufacturer's Certification (MSMC)
Curlex Bloc CSI Specification
Day of Install, 3 Months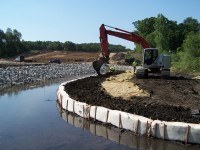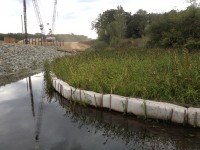 6 Months, 16 Months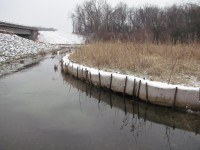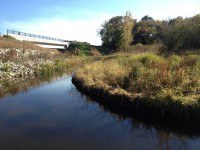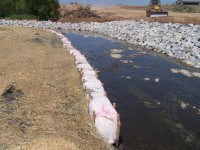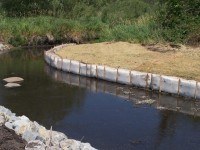 Curlex Blocs (with biodegradable containment material) are easily abutted with a seamless "joint" by pulling the extra flap of containment material from one end over the end of the adjacent Curlex Bloc.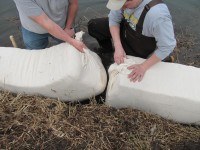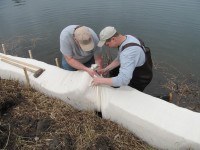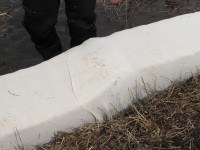 An alternating staking pattern and weaving rope pattern are used to secure Curlex Blocs for shoreline applications.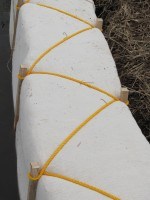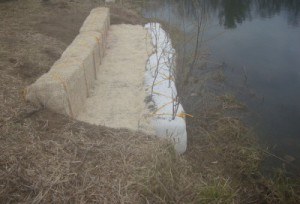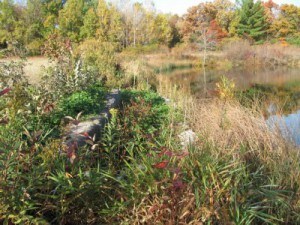 Curlex Blocs can be used to create flat "shelves" or "benches" on a shore that is covered with Curlex® NetFree™ for ease of plugging native vegetation.
See Curlex Bloc Installation Guidelines and CAD Detail for complete installation instructions.  Watch a video on the installation of Curlex Bloc.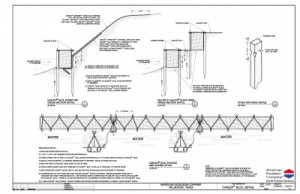 Environmentally Friendly
Curlex Blocs are manufactured from Great Lakes Aspen.  Curlex Blocs are naturally seed-free and non-toxic.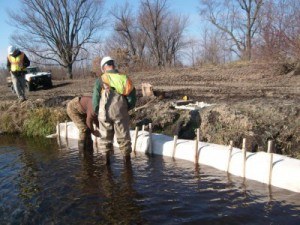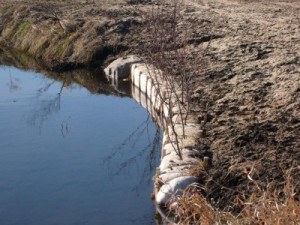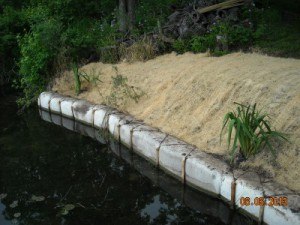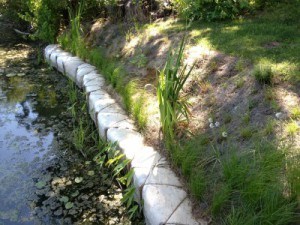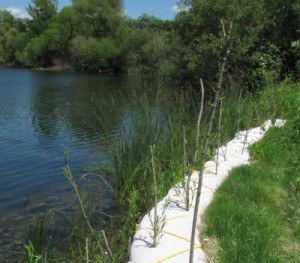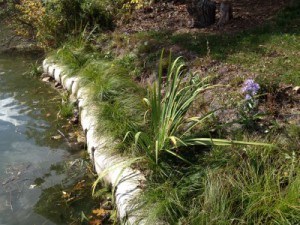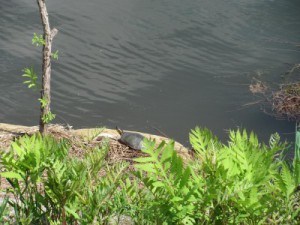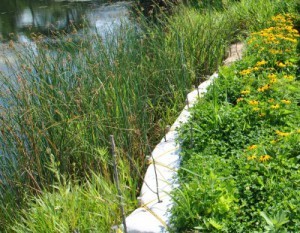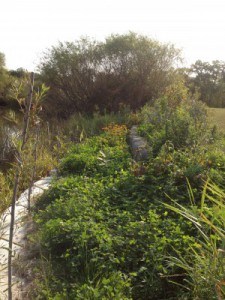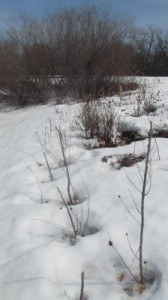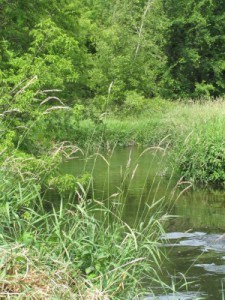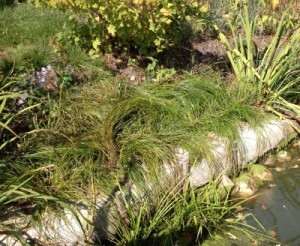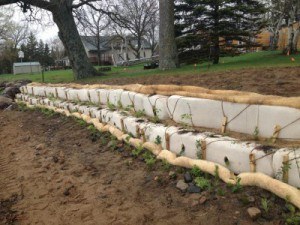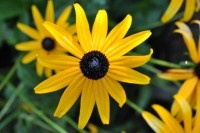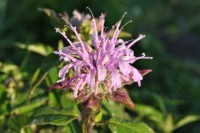 Technical Support
Visit our Technical Support Library to view all Technical Support Documents by clicking on Technical Support at the top of any page or please Contact Us if you have further questions.
Disclaimer: Curlex Bloc is a system for shoreline and streambank stabilization and for sediment control in channels and on slopes. American Excelsior Company (AEC) believes that the information contained herein to be reliable and accurate for use in erosion and sediment control applications. However, since physical conditions vary from job site to job site and even within a given job site, AEC makes no performance guarantees and assumes no obligation or liability for the reliability or accuracy of information contained herein, for the results, safety or suitability of using Curlex Blocs, or for damages occurring in connection with the installation of any erosion control product whether or not made by AEC or its affiliates, except as separately and specifically made in writing by AEC. These specifications are subject to change without notice.