Eco-Sustainable™ Products

With the increasing need to protect our environement and meet federal NPDES regulations, you need to trust your erosion and sediment control needs to a company that has documented performance.  A company that provides one source for all your erosion and sediment products and design needs. 
With American Excelsior's new Eco-Sustainable line, you now have one source of products engineered by success, documented with ASTM large-scale testing, provide an opportunity to earn LEED® points and are backed by proven performance.  Our Eco-Sustainable line is led by SUSTAINABLE, ENVIRONMENTALLY FRIENDLY, 100% BIODEGRADABLE, and RECYCLED products:
Curlex® CL, and AEC Premier Straw®: SUSTAINABLEECB's made with Conwed's® ENVIRONMENTALLY FRIENDLY Nature Zone™ netting and/or new Ecocycle™ Technology
Curlex® NetFree™: a SUSTAINABLE ECB without netting and made from BIODEGRADABLE wood fibers
Curlex Sediment Log®: SUSTAINABLE products to filter runoff, retain sediment and dissipate flows using BIODEGRADABLE excelsior fibers
E-Staple®: a BIODEGRADABLE staple to anchor rolled products to the soil
Recyclex® TRM and Recyclex® TRM-V: made from RECYCLED soda bottles
ErosionWorks®: design software that allows you to design and analyze your site and make the right Eco-Sustainable product choices
Sustainable

Curlex® and AEC Premier Straw® products – led by Curlex® CL ECBs and Curlex Sediment Log®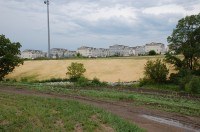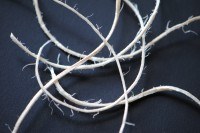 Curlex fibers are cut from logs using a unique process where the actual thickness of the fiber, as well as the width, can be cut on high-speed equipment at the same time. The process is so unique, we can control the width and thickness down to the thousands of an inch.  Curlex technology yields engineered fibers designed specifically for erosion and sediment control products.
Curlex CL technology utilizes less overall raw material, while still providing a high level of performance.  All Curlex raw materials are provided by members of Sustainable Forestry Programs, thus we ensure our Curlex products are sustainable from the very beginning.  Please visit our Curlex CL webpage for more details.  Curlex is considered the industry standard by many because of the plethora of Curlex Features and Benefits.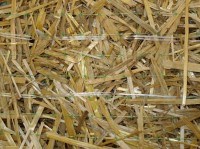 Straw fibers are by-products of agriculture processes and do not provide the level of erosion or sediment control protection that can be expected with engineered Curlex brand products. However, straw fibers are sustainable because as long as the agricultural crops, such as wheat, are needed the straw fiber by-products will be available for lower end erosion and sediment control products.
Curlex Sediment Log is a unique product designed to be porous, unlike many other dense products that only provide damming effects.  The key of Curlex Sediment Log is its fibers.  Curlex fibers have been shown to be highly effective at filtering contaminated runoff.  For example, independent research has quantified Curlex fiber's unique capability to remove even polynuclear aromatic hydrocarbons (PAHs), which are typical components of asphalts, fuels, oils, and greases. It is important to remember that contaminated runoff cannot be filtered if it is not able to flow through the BMP.  The porous design of Curlex Sediment Log allows water to flow through them.  Curlex Sediment Log also dissipate flow velocity, which causes sedimentation in front of the products.  Another very important property of Curlex Sediment Log is that it does not contain any seeds – period.  Curlex Sediment Log is made from clean, 100% seed free Great Lakes Aspen.  Other BMPs, such as straw based products, may be certified free of "noxious" weed seeds.  "Noxious" weeds vary by region so take the safe route with naturally seed free Curlex Sediment Log and ensure no seeds will be introduced into the environment on your next project.  Please visit our Curlex Sediment Log web page for more details.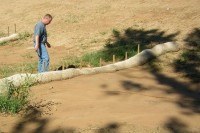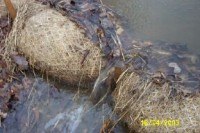 Environmentally Friendly

Our Environmentally Friendly products are led by erosion control blankets with netting technologies provided by Conwed.
As discussed above, Curlex fibers are engineered specifically for erosion and sediment control solutions.  During the precise process, curls and barbs are created that allow the
fibers to interlock with one another to form a continuous matrix.  The interlocking fibers allow for Nature Zone™ netting materials with larger openings to be used, which have been shown through University testing to be more wildlife-friendly than nets with smaller opening sizes.  Other fibers used for erosion and sediment control, such as straw, do not interlock so they typically fall through nettings with larger openings.  Thus, fibers other than Curlex generally utilize net materials with smaller openings to hold the product together.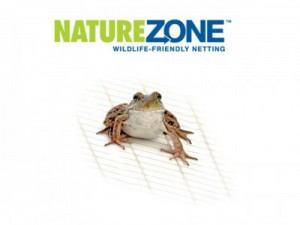 Curlex® NetFree™ is very Environmentally Friendly too because it is the only erosion control product that does not contain any netting and the entire product is 100% biodegradable.  For complete details, please visit our Curlex NetFree webpage.  Many of our products are also available with Environmentally Friendly jute netting and can be viewed at the link below.
100% Biodegradable
Please visit our web page on all our 100% Biodegradable Erosion Control Options.
Recycled Products
Recyclex TRM and Recyclex TRM-V and permanent turf reinforcement mats (TRMs) whose fibers are made from 100% post-consumer goods.  For every one pound of Recyclex fibers, approximately 20 plastic bottles are diverted from our landfills.  In many cases, Recyclex fibers are used to permanently protect landfills instead of the bottles being "thrown away" in them.  Recyclex products provide a high level of permanent erosion control protection while helping the environment at the same time.  Avoid the requirement for producing new materials used by other TRMs and make a green footprint on your next project by selecting our environmentally responsible Recyclex TRM or TRM-V.  Just think, you make a difference each time you use Recyclex products.  For complete details, please visit our Recyclex TRM and TRM-V webpage.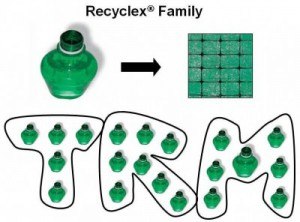 LEED® Points
American Excelsior Company is your single source for earning LEED points outside your building.  Our Eco-Sustainable product line has been developed to help site owners earn LEED points.  Our products can help contribute toward U.S. Green Builders Council's Leadership in Energy and Environmental Design (LEED) Green Building Rating System™ points to help your project achieve its LEED certification.
Many of our products can help contribute to your LEED certification.  For example, Recyclex TRM and TRM-V can be an integral part of your LEED certification by helping achieve up to 10 LEED points.  Consider Recyclex TRM or TRM-V for your next swale, waterway, or channel instead of riprap or other TRMs because you will be helping the environment and your LEED point contributions at the same time.
Curlex NetFree, Curlex blankets,  and Curlex Sediment Log are amongst some of our other products that can help contribute toward LEED points.  For more information on how American Excelsior Company can help you achieve LEED points, please see our LEED Brochure or contact us.  Appropriate LEED Rating Systems, categories, and specific credits are detailed in our brochure.
Technical Support
Visit our Technical Support Library to view all Technical Support Documents by clicking on Technical Support at the top of any page or please Contact Us if you have further questions.
Disclaimer: American Excelsior Company's Eco-Sustainable product line is a system for erosion control and re-vegetation on slopes and channels.  American Excelsior Company (AEC) believes that the information contained herein to be reliable and accurate for use in erosion control and re-vegetation applications.  However, since physical conditions vary from job site to job site and even within a given job site, AEC makes no performance guarantees and assumes no obligations or liability for the reliability or accuracy of the information contained herein for the results, safety, or suitability of using Eco-Sustainable products, or for damages occurring in connection with the installation of any erosion control product whether or not made by AEC or its affiliates, except as separately and specifically made in writing.  These specifications are subject to change without notice.