E-Staple®
Downloadable Files
A New, 100% Biodegradable Anchoring Staple
American Excelsior Company offers E-Staple®, a 100% biodegradable turf staple, which is not just another turf staple.  E-Staple is the result of years of research and development that has produced the most unique turf staples available today.        
Material Characteristics
E-Staple's unique composition sets it apart from other 100% biodegradable staples.  E-Staples are comprised of a natural plastic that originates from materials that are abundantly grown in the United States.  E-Staple composition is Polyhydroxyalkanoate (PHA) plastic that is made from plant sugars and oils.  "Natural plastics" eliminate the use of petroleum-based materials, which ultimately helps reduce our dependency on oil.  This innovative composition produces unique and unmatched physical and chemical features and benefits.  All of these features and benefits, along with the independent pull out testing results vs. other turf staples, are detailed in the E-Staple TechNote.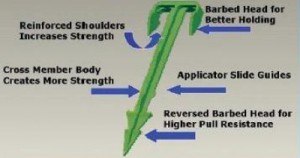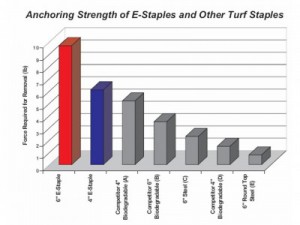 Learn more about E-Staple's superior pullout resistance here
Biodegradation
E-Staples biodegrade by a surface attack mechanism triggered by soil microbes naturally present in the soil.  With this in mind, E-Staples will biodegrade faste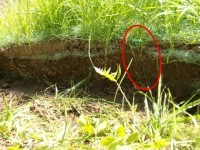 r in more fertile soil because that means there are more microbes breaking down the material.  E-Staples biodegrade in cold (43 °F) to hot (180 °F) conditions and do not require a pre-hydrolytic reduction in molecular weight for degradation to begin.  Pre-hydrolytic reduction generally requires a hot (140 °F – 149 °F) and moist composting step, which is not a common condition for soils where turf staples are used.  E-Staples will biodegrade completely from the soil in 8-24 months depending on site conditions. 
Features
100% Biodegradable in cold (43 °F) to hot (180 °F) conditions
Water resistant and do not soften from moisture during storage
Barbed shoulders and head for superior holding capabilities
More environmentally friendly than wire staples
Typical Applications
Wetland and irrigation areas
Coastal projects
Golf course construction
Airport construction
Environmentally sensitive projects
Mowing applications
Use with Curlex® NetFree™ for a 100% biodegradable project
Suggested Specifications and Certifications
100% biodegradable turf staple shall be E-Staple, as provided by American Excelsior Company
Staple shall be 100% biodegradable from microbial activity in accordance to ASTM D5338 and ASTM D5271
Staple shall biodegrade in cold (43 °F) to hot (180 °F) soil conditions
Staples shall be water resistant
Staples shall be T-Shaped and have barbed head and shoulders for superior holding strength
Material Safety Data Sheet (MSDS) shall be provided for the product to ensure environmental compliance
Packaging
Available in 4 and 6-inch lengths
Carton of 500 or 1,000
Installation
E-Staples may be installed by hand; however, the E-Stapler™ mechanical applicator greatly expedites E-Staples installation and should be used for best results in hard soils.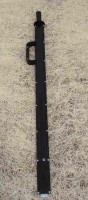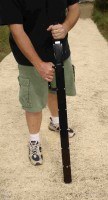 Technical Support
Visit our Technical Support Library to view all Technical Support Documents by clicking on Technical Support at the top of any page or please Contact Us if you have further questions.
Disclaimer: E-Staple is a 100% biodegradable turf staple used to anchor erosion control blankets and sod.  American Excelsior Company (AEC) believes that the information contained herein to be reliable and accurate for use in erosion control and re-vegetation applications.  However, since physical conditions vary from job site to job site and even within a given job site, AEC makes no performance guarantees and assumes no obligation or liability for the reliability or accuracy of information contained herein for the results, safety or suitability of using the E-Staple, or for damages occurring in connection with the use of any E-Staple product whether or not made by AEC or its affiliates, except as separately and specifically made in writing.