Curlex® Green Savers™
Excelsior Winter Protection Blanket
Downloadable Files
Cover greens with Curlex Green Savers in fall and start golfing earlier in spring…
Curlex Green Savers are natural excelsior blankets that provide winter protection against drying winds, frost penetration, grass desiccation, and freezing cold on all golf course greens.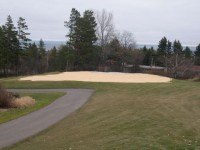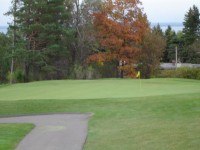 Curlex Green Savers maintain a more constant surface temperature and allow excellent air circulation.  Curlex Green Savers minimize heat build up and the freeze-thaw cycle, which helps to establish quality greens early in the season, thus extending the playing season by two to three weeks.
WATCH the installation and removal processes along with the excellent results following a winter in Northern Wisconsin
Curlex Green Savers are furnished in rolls with polyethylene wrapping to protect against the elements prior to installation and may be ordered in Master-Paks to minimize material handling requirements.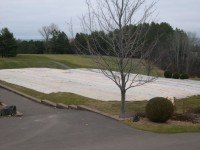 Typical Rolls Sizes
Width

4.0 ft (1.2 m)

8.0 ft (2.4 m)

Length
50.0 ft (15.2 m)
50.0 ft (15.2 m)
Area
22.2 yd2 (18.6 m2)
44.4 yd2 (37.1 m2)
Weight
36.0 lb (16.3 kg)
72.0 lb (32.7 kg)
Physical Properties
Fiber
Great Lakes Aspen Excelsior (naturally seed free); Curled, interlocking with barbed edges
Fiber Size
80% of fibers a minimum of 6" (15.2 cm) long; 0.038" ± 0.008" wide x 0.018" ± 0.003" thick (0.97 mm ± 0.20 mm wide x 0.46 mm ± 0.08 mm thick)
Weight*
1.62 lb/yd2 (0.88 kg/m2) ± 10%
Thread Material
HT Polypropylene with UV degrader additive
Thread Pattern
4" x 4" (10.2 cm x 10.2 cm) ± 0.50" (1.3 cm)
Net Material
 Polypropylene heavy duty black
Net Openings
 0.75" wide x 0.75" long (19.1 mm x 19.1 mm)
Net Configuration
 Top and bottom
 *Weight is based on a dry fiber weight basis at time of manufacture.  Baseline moisture content of Great Lakes Aspen Excelsior is 22%.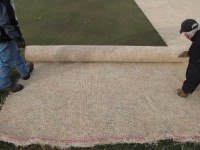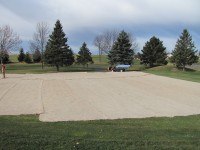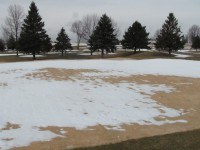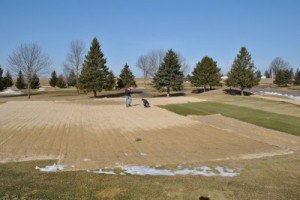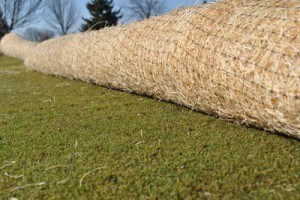 Technical Support
Visit our Technical Support Library to view all Technical Support Documents by clicking on Technical Support at the top of any page or please Contact Us if you have further questions.
Disclaimer: Curlex Green Savers is a system for providing winter protection on golf course greens.  American Excelsior Company (AEC) believes that the information contained herein to be reliable and accurate for use on golf course winter protection applications.  However, since physical conditions vary from job site to job site and even within a given job site, AEC makes no performance guarantees and assumes no obligation or liability for the reliability or accuracy of information contained herein for the results, safety, or suitability of using Curlex Green Savers, or for damages occurring in connection with the installation of any erosion control product whether or not made by AEC or its affiliates, except as separately made in writing.