Curlex® Sediment Log®
Downloadable Files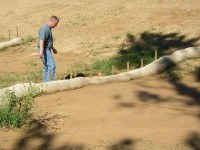 Curlex Sediment Logs use excelsior fibers to reduce hydraulic energy & filter sediment-laden runoff. Tired of straw and hay bale checks being blown out and the fibers washed downstream to clog the nearest outlet?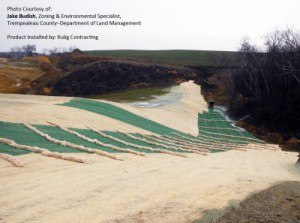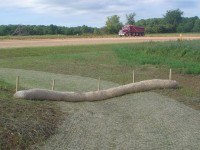 Fed up with spending all of your time and effort installing silt fence only to see it be knocked down when it rains or a good wind comes along? How about when you have to go back and pick up the loose fibers and/or remove those worn out silt fences and take them to the landfill? Next time, consider trying our environmentally friendly, naturally seed free, Curlex Sediment Logs. Water filters through (not underneath) the diameter of the porous, interlocked fiber log matrix. As it does, velocity is naturally reduced and sediment is collected on the upstream side of the excelsior fiber log. Install Sediment Logs over bare soil and/or biodegradable & permanent erosion control blankets, on steep slopes as a wattle, around drains for inlet protection, or around job sites for perimeter control.
Here are two photos of a Curlex Sediment Log that was cut apart to show the fine clay that was retained within the product after contaminated stormwater runoff filtered through the porous matrix.  The photo on the left shows a cross section of the Curlex Sediment Log and the photo on the right shows all the fine soil that was inside the Curlex Sediment Log after it was broken up for demonstration purposes of the photo: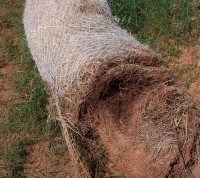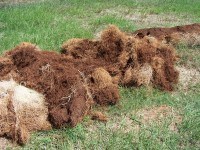 Material Characteristics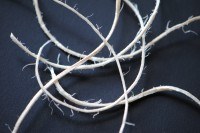 Curlex Sediment Logs are versatile excelsior logs comprised of an outside containment fabric and filled with unique Curlex® fibers. Curlex fibers are made of Great Lakes Aspen excelsior fibers. The fibers are curled with soft interlocking barbs and 80% will be six inches in length or longer. Curlex is considered the industry standard by many because of the plethora of Curlex Features and Benefits.  The outside, open weave containment fabric is degradable, thus Curlex Sediment Logs will degrade in place if not removed. Curlex Sediment Logs are porous, allowing water to pass through the excelsior matrix, progressively slowing velocity and filtering sediment as it passes through the log diameter. Sediment Logs are extremely flexible and contour to the terrain to maintain intimate contact with the sub-grade. In addition, they come with six other benefits; lightweight, no trenching, no weed seeds, no disposal hassles, are re-usable and hold their shape.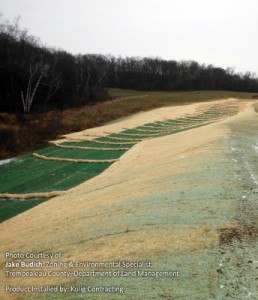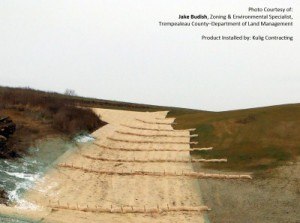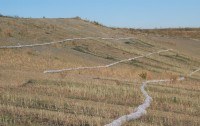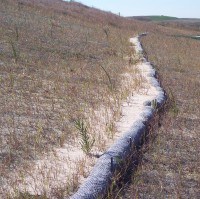 Product Name (Nominal Diameter (DN)) –
(20 in) – energy dissipation in heavy duty concentrated flow areas, slope interruption, inlet protection, perimeter control

(12 in) – energy dissipation in mild to medium concentrated flow areas, slope interruption, inlet protection, perimeter control

(9 in) – energy dissipation in mild concentrated flow areas, slope interruption, inlet protection, perimeter control

(6 in) – energy dissipation in low concentrated flow areas, slope interruption, inlet protection, perimeter control
Watch an ASTM D7208 Curlex Sediment Log Test
Length –
3 m (10 ft) standard for 50 cm DN & 30 cm DN (20 in DN & 12 in DN) Sediment Logs
7.6 m (25 ft) standard for 23 cm DN & 15 cm DN (9 in DN & 6 in DN) Sediment Logs
Note: Ends of Curlex Sediment Logs may be attached with plastic ties for additional length or custom lengths are available based on quantity of order.
Performance Requirements
| | |
| --- | --- |
| Slope Erosion1: | Reduce by a minimum of 70% of bare soil slopes |
| Channel Erosion2: | Reduce by a minimum of 50% of bare soil channels |
| pH Absorption3: | Ending pH shall not exceed 8.3 |
| Functional Longevity4: | ≤24 months |
| Oil Sorbent Material: | U.S. E.P.A. documentation for preapproval |
1. Based on large-scale rainfall testing as outlined in Kelsey, K., T. Johnson, and R. Vavra. 2006. "Needed Information: Testing, Analyses, and Performance Values for Slope Interruption and Perimeter Control BMPs." IECA Conference Proceedings. P. 171-181.
2. Based on ASTM D7208
3. Based on ASTM D1117, modified
4. Functional Longevity varies from region to region because of differences in climatic conditions.
Typical Applications
Energy dissipation and Sediment Control Device for:
Ditch bottoms, swales, and waterways
Over bare soils and/or temporary & turf reinforcement mats (TRMs)
Drop structures and let down structures
360 degree protection around catch basins & drop inlet structures
Curb & drainage outlets
Project ingress & egress termination points
As wattles on steep slopes
Site perimeter control
Use in place of bales, silt fence, reinforced silt fence, and rock checks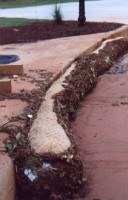 Design Resources
Curlex Sediment Log Design Values
Channel and Slope Design Values for Curlex Sediment Logs
Recommended Spacing Between Curlex Sediment Logs in Channelized Flow Applications
(U.S. Customary Units)
(Metric)
Recommended Spacing Between Curlex Sediment Logs on Slopes
(U.S. Customary Units)
(Metric)
Curlex Sediment Log perimeter control testing
Watch the Difference in Flow Rates Between a Curlex Sediment Log and a straw wattle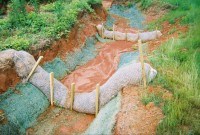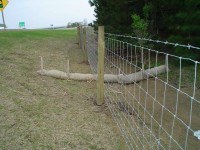 Curlex Sediment Logs Case Studies
Pikes Peak Erosion Control Challenges
Community Comes Together – Curlex NetFree, Enforcer, Sediment Logs
Suggested Specifications
– Sediment Control Device
General

Sediment Log consists of an outside, open weave, containment fabric filled with Great Lakes Aspen curled excelsior fibers. Its purpose is to provide a flexible, lightweight, porous, sediment control device demonstrating the ability to conform to terrain details and dissipate water velocity in concentrated flow areas.
Sediment Control Device shall be Curlex Sediment Log, as manufactured by American Excelsior Company. Curlex Sediment Logs shall be made of Great Lakes Aspen Excelsior fibers encased in an outside open weave containment fabric. Fibers shall be curled with soft, interlocking barbs to form a strong, organic filtration matrix. A minimum of 80 percent

of the fibers shall be 15 cm (6 in) or greater in length. Fibers shall be evenly distributed throughout the diameter and length of the Sediment Log. Fibers shall be naturally seed free. Excelsior color shall be standard Aspen (natural). Netting at each end of the log shall be secured to assure fiber containment
20 in*
12 in*
9 in*
6 in*

Product Name/Nominal Diameter

50 cm (20 in)
30 cm (12 in)
23 cm (9 in)
15 cm (6 in)
Minimum Diameter
 45.7 cm (18.0 in)
 27.9 cm (11.0 in)
 20.3 cm (8.0 in)
 14.0 cm (5.5 in)

Length (±10%)

3.1 m (10 ft)
3.1 m (10 ft)
7.6 m (25 ft)
7.6 m (25 ft)

Weight** (±10%)

13.6 kg (30 lb)
9.1 kg (20 lb)
11.3 kg (25 lb)
5.4 kg (12 lb)
22.00 kg/m3
(1.38 lb/ft3)
40.08 kg/m3
(2.54 lb/ft3)
36.26 kg/m3
(2.26 lb/ft3)
39.15 kg/m3
(2.44 lb/ft3)
*Custom sizes available.
**Weight and density are based on a dry fiber weight basis at time of manufacture. Baseline moisture content of Great Lakes Aspen excelsior is 22%.
Technical Support
Visit our Technical Support Library to view all Technical Support Documents by clicking on Technical Support at the top of any page or please Contact Us if you have further questions.
Disclaimer: Curlex Sediment Log is a system for sediment control in channels and on slopes. American Excelsior Company (AEC) believes that the information contained herein to be reliable and accurate for use in sediment control applications. However, since physical conditions vary from job site to job site and even within a given job site, AEC makes no performance guarantees and assumes no obligation or liability for the reliability or accuracy of information contained herein, for the results, safety or suitability of using Sediment Log, or for damages occurring in connection with the installation of any erosion control product whether or not made by AEC or its affiliates, except as separately and specifically made in writing by AEC. These specifications are subject to change without notice.