Curlex® RoadRunner™
Downloadable Files


Curlex RoadRunner is a mechanically installed erosion control blanket (ECB) system that has virtually rendered manual installation obsolete.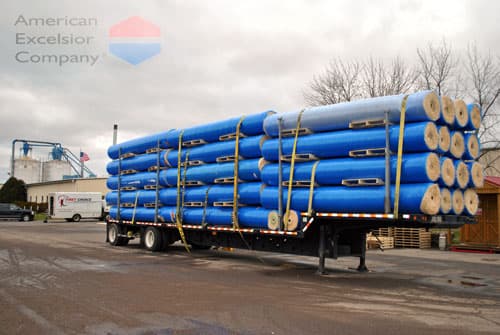 If you work with large projects and would like to drastically reduce your unloading and installation labor rate, RoadRunner ECBs along with our patented installation equipment is your most efficient solution. RoadRunner installation equipment is compatible with skid steer equipment. RoadRunner mechanically unloads, installs the blankets, reduces your crew size, and minimizes labor installation time. In turn, it allows you to complete large projects ahead of schedule, vs. the extra time and labor normally associated with manually installed blankets.
Material Characteristics

RoadRunner is a patented system designed to allow one person to mechanically unload a flatbed of blankets on-site in less than one hour. After unloading, just change to the installation mode and install with the most labor efficient system available. All you need to install RoadRunner ECBs is one operator and two to three persons to staple the blankets. RoadRunner installation equipment allows you to minimize crew size and maximize labor efficiency by installing wider and longer ECBs. RoadRunners allow for a fast, smooth installation. Available colors are natural Aspen or QuickGRASS® (green pigment) for urban aesthetics.  Curlex is considered the industry standard by many because of the plethora of Curlex Features and Benefits. 
Performance Capabilities
Channels
RoadRunner installation equipment will install Curlex ECBs in channels that are accessible by most skid steers.
Slopes
Steepness: RoadRunner ECBs have been installed on 2H:1V slopes; however, the limitations of equipment and operator skill will vary. Refer to equipment safety manual before installing on steep slopes.
Typical Applications
Highway medians, shoulders, channel bottoms, and side slopes
Golf course fairways & roughs
Residential, commercial, and industrial developments
Landfill caps and side slopes
Mine reclamation projects
Pipeline right-of-ways
Suggested Specifications
ECB – Mechanically Installed
General
ECB is in rolled blanket form to be used in conjunction with patented RoadRunner equipment for the purpose of reducing crew size, minimizing unloading time, and maximizing installation efficiency. RoadRunner Installation Equipment is compatible with most skid steer loaders and tractors.
Product
ECBs shall be standard Curlex Excelsior RoadRunner blankets as manufactured by American Excelsior Company. ECB shall be made of Great Lakes Aspen excelsior with one layer of netting (top side) stitched to form a three-dimensional matrix. Netting on both sides is optional. RoadRunner ECBs shall be naturally seed free and be of consistent thickness. Fiber shall be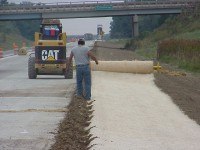 Curlex excelsior and 80% or more shall be six inches or longer. Fiber shall be curled with soft barbs to allow for an interlocking matrix. Excelsior fiber color shall be natural Aspen or QuickGRASS (green). Curlex RoadRunner ECBs shall be furnished with a 10 cm (4 in) diameter corrugated core to allow handling by equipment during unloading and installation.
| | |
| --- | --- |
| Roll Width |  2.4 m (8.0 ft) |
|  Roll Length |  167.6 m (550.0 ft) |
|  Roll Area |  409.0 m2 (489.0 yd2) |
|  Weight* | 0.40 kg/m2 (0.73 lb/yd2) ± 10% |
*Weight is based on a dry fiber weight basis at time of manufacture.  Baseline moisture content of Great Lakes Aspen excelsior is 22%.
Technical Support 
Visit our Technical Support Library to view all Technical Support Documents by clicking on Technical Support at the top of any page or please Contact Us if you have further questions.
Disclaimer: Curlex RoadRunner is a system for erosion control and re-vegetation on slopes and channels. American Excelsior Company (AEC) believes that the information contained herein to be reliable and accurate for use in erosion control and re-vegetation applications. However, since physical conditions vary from job site to job site and even within a given job site, AEC makes no performance guarantees and assumes no obligation or liability for the reliability or accuracy of information contained herein for the results, safety or suitability of using Curlex RoadRunner, or for damages occurring in connection with the installation of any erosion control product whether or not made by AEC or its affiliates, except as separately and specifically made in writing.