CurlFoam™
Downloadable Files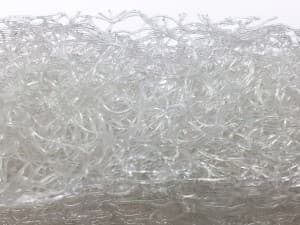 CurlFoam™ is an extruded Polyethylene cushioning product. Its unique cell structure, along with excellent physical properties, makes it the ultimate choice for various cushioning applications.
CurlFoam's open cell design makes it breathable and ideal for air circulation
Available in a clear/white color
Odor-free
A 100% recyclable product
Washable
Does not absorb water and dries quickly
Mold and mildew resistant
Products are custom-made to meet your requirements, including custom weight firmness and exact dimensions manufactured to your specifications
CurlFoam can be used in a wide-variety of applications, including:
Seating
Bedding
Medical Padding
Contact your American Excelsior Company Sales Representative for more information and to discuss if CurlFoam is the perfect fit for your project.