Evaporative cooling is an efficient and cost effective way to cool homes and businesses in hot and dry parts of the world. For over 50 years, American Excelsior has been the industry leader in the manufacturing and sales of cooler pads. Our Curlex® excelsior cooler pads are made from the cleanest, toughest, and most consistent all natural aspen wood fibers available, for superior cooling performance.
Unique Curlex® cut fibers enable the fibers to interlock to help prevent sagging for a truly superior cooler pad. Even fiber distribution throughout the pad and around the edges of the pads helps to provide maximum cooling efficiency. Curlex® cooler pads are packaged individually, on the roll, or in bulk compressed pads in a wide variety of standard sizes. Custom bulk or individually packaged size pads can also be ordered. Individually packaged pads are also ideal for sales through retail establishments.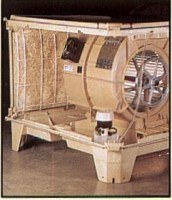 Evaporative coolers work because the natural fibers of a cooler's excelsior pads retain moisture and swell when saturated with water. When the draft-fan of an evaporative cooler pulls the hot and dry air through the fibers, it cools the air instantly and also increases the humidity in the interior of the house or business. This provides natural air conditioning for a steady supply of cool, fresh air.
Curlex cooler pads are pre-sized for quick and easy installation. All pads are machine made to ensure uniformity and proper fit. Over 50 years experience and expertise goes into every pad. Compressed bundling of the pads saves on space and also enables easier stacking. We sell our cooler pads to both domestic and international markets.
For more information, we invite you to contact us at sales@americanexcelsior.com or feel free to call us at our toll free number, 866-934-2377.